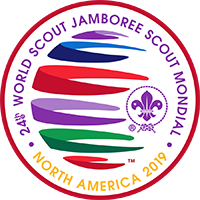 The World Scout Jamboree takes place every four years and first took place in London in 1920. Some of you will be aware of the article in Radcom July 2019 by Remko (PE1MEW).
Its call sign this year is NA1WJ, the Jamboree take place in North America, Following the opening of the Jamboree, they will be operating ten stations on Echolink, D-Star, UHF, VHF, and HF.
They plan to try and introduce around 3000 young people (Scout and Guides) who are attending/visiting the event to amateur radio.
I am sure you would agree with me that inspiring the next generation of Radio Amateurs is very important to us all. This is where we can all get involved.
The Jamboree runs from 11th July to the 2nd or August, although I am advised that the first transmission from a Radio point of view will be starting on the 18th July, the station will be active from 12:00 to 21:00UTC. Contact with the station may be possible outside of these hours as volunteer staff are hoping to be on hand.
As many of you will be aware from JOTA, that there are a number of 'Scout Frequencies' These are: 3.940MHz, 7.190MHz, 14.290MHz, 18.140MHz, 21.360MHz, 24.960MHz, and 50.160MHz
For D-Star, I understand that Reflector REF033A will be in use. You may also find activity on DMR Talk Groups (TG 907 9071 9072). Not Forgetting Echolink!
If you have the time please try and make contact, keep in mind that is will be about demonstrating Amateur Radio and you may be talking to a young person on the radio for their first time. Please try and have some open questions (by which I mean can't be answered yes or no)  if possible ask questions about Scouting / the Jamboree and maybe add some of your own personal experience of Scouting.
Other Radio Activities planned at the Jamboree are ARDF fox hunting using 2m and 80m, they have planned for contact with the ISS and will be trying to work some LEO satellites. Also, some pico balloons with WSPR payloads are being launched – I am sure you will be able to pick up details on https://tracker.habhub.org/ – If would be good to ask any young people you talk to if they have been involved in any of these activities.