Two members of Worksop Amateur Radio Society have won National Awards, in Amateur Radio Contesting. Tony (M6KTP) from Sheffield and John (2E0DXK) who is from Chesterfield, have won Awards from the Radio Society of Great Britain (RSGB) for the Leading Foundation and Intermediate Licence holders in the National UK activity contests, being the highest in the league table at the end of the contest Year.
These Amateur Radio Contests take place weekly, and involve member finding and making contact with other Radio Amateurs in the UK and Europe.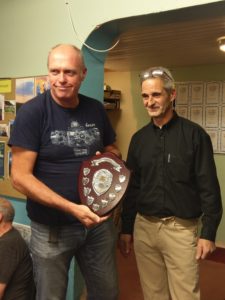 Tony (M6KTP) accepting his award from Martin (M0ZMF) Chairman of Worksop Amateur Radio Society. These awards were given out at the RSGB Convention, unfortunately neither Tony or John were able to make that occasion.
Martin says that "its great to see Society members picking up National Awards. Worksop Amateur Radio Society has only been taking part in the UK Activity contests for a few years, but has been quite successful".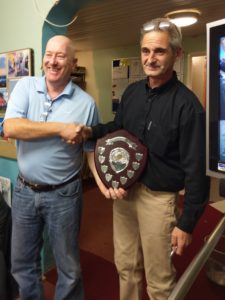 John (2E0DXK) picking up his award from Worksop Amateur Radio Societies Chairman. Both Tony and John, gained their Foundation Licence in 2015. Following an Exam their Call Signs are issued by Ofcom.
There are three levels of Amateur Radio Licence in the UK currently, these are Foundation, Intermediate and Full. Each Licence requires a Radio Amateur to Study for and take exams.
Both Tony and John received training and took there exams at Worksop Amateur Radio Society.