Jota-Joti 2019
Members of the Worksop Amateur Radio Society set up a Jota station for Members of Bassetlaw Scout District and Whitwell Cub Scouts. This is the eight-year that the Worksop Amateur Radio Society has been involved with Jota, the society being introduced to Jota by a local Scout Leader and Member (Paul M0PJA).
This year's event was superbly organized by Sue M6XAK, and we introduced two new activities into the mix for the weekend. These proved very popular with all the young people.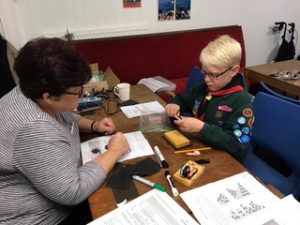 The first one was a snail practice  morse key, we have found that the young people who visit are excited by morse, the snail morse key project is made available bt the RSGB, and designed by Trevor Hughes (G4WKJ) and can be found at https://rsgb.services/public/publications/snail-morse-key-kit/the_snail_practice_morse_key.pdf 
We made sure that we had plenty of snail morse key project kits and under the watchful eyes of Sue M6XAK (pictured) and Carol 2E0XCA all the Young people who wanted to were able to build one of these kits, and take it home with them to enjoy! It was great to see everyone enjoying this. If you are looking for an activity you might want to try this.
For the more adventurous young people and some leaders and parents, we had a build a Morse Practice Oscillator on Bread Board.
The Young please were given a kit and some instructions and were able to view a completed model.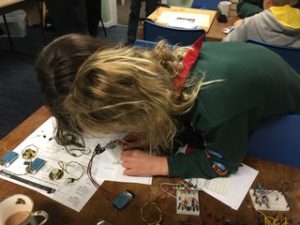 The CW key was made up of two drawing pins and a paperclip on the end of the breadboard.
Once either kit had been completed they we able to practice some morse with Steve G0EAK, again this proved very popular.
The Young People were able to make a QSO or two and pass a greeting message under the expert tutor ledge and watchful eye of Martin M0ZMF, its also great to hear the Young people enjoying Amateur Radio, thanks also to the many members who were on standby to take to the young people when we could not get a contact with other JOTA stations.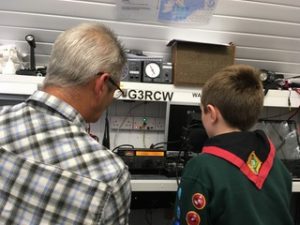 We also operated a Data Modes station using PSK / RTTY / and JS8CALL, contacts via these modes were down on other years, due to local and band conditions.